Greece's second city is filled with remnants of its multilayered past, but sprinkled among the monuments are plenty of modern diversions.
A view of Thessaloniki and the Aegean Sea from the 15th-century Trigoniou Tower.
Frequently outshone by the idyllic Aegean Islands, and overshadowed by the ancient glories of Athens, Greece's second-largest city is hardly a household name. But the buzzing metropolis in the country's northern mainland doesn't need to trade on its looks or fame to earn respect. The once-powerful port is still filled with the Unesco-listed remains of the three empires that ruled it — the Romans, the Byzantines and the Ottomans — as well as many traces of its multireligious past, which saw Muslims, Christians and Jews living side by side. (Two world wars, a Turkish-Greek population exchange in the 1920s and the deportation of the Jews in the 1940s effectively ended the "Jerusalem of the Balkans.")
Sprinkled among those monuments are impressive contemporary restaurants, vintage shops, a notable C.P.C. (cafes per capita) ratio and a staggering B.P.P. (bars per person) quotient. So here's some rare advice for a weekend in Greece: Forget your swimsuit and leave your copies of Plato and Socrates at home.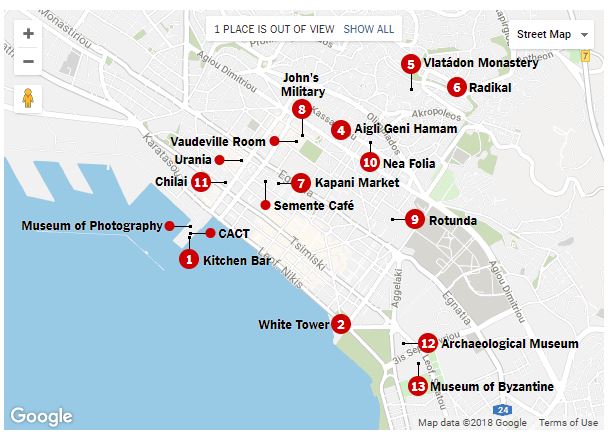 Friday
1) 5 p.m. PEER FROM THE PIER
Someone needs to rename Kitchen Bar. Situated on a pier with sweeping views of the Aegean, the industrial-chic restaurant and bar might more accurately be called Knockout Vista Liquor Lounge, Sublime Perspective Booze Purveyor or some other moniker referencing its panoramic positioning and myriad drinks. Homer's wine-dark sea looks even more poetic with a tangy Sherry Chery (sic) Lady cocktail (vodka, mastic liqueur, cherries, lemon; 9 euros, or about $10.30). Afterward, shift your gaze toward the exhibitions at the Thessaloniki Museum of Photography (2 euros) or the Contemporary Art Center of Thessaloniki (4 euros) next door.
2) 7 p.m. THE TOWER AND THE GLORY
A Greek flag flutters atop the crenelated battlements of the circular White Tower, but the structure was actually built by the Ottomans, who captured Thessaloniki from the Byzantine Empire in 1430. (They built the tower later that century and ruled the region until the Greek state captured it in 1912.) The interactive exhibitions about city history are a bit mysterious to anyone who can't read Greek, but the glorious 360-degree view from the summit requires no translation. Admission, 4 to 8 euros, depending on season.
3) 8:30 p.m. TRIPLE DELIGHT
Each level of The Aficionados, an elegant townhouse and restaurant, offers a distinctive temptation. On the ground floor, Dimitris Pamporis (a veteran of the three-Michelin-star restaurant l'Auberge de l'Ill in France) serves a multicourse tasting menu (90 euros), while the top story houses a plush cocktail bar. On the floor between, neo-Greek cuisine with Asian infusions is the star. Meat mavens can experiment with the "Chinese Hot Dog" (Iberian pork and Chinese cabbage) followed by a veal filet or rib-eye. For an Aegean evening, trawl the seafood side of the card. Among appetizers, thin crunchy discs of kohlrabi sculpturally enfold an excellent tuna tartare flavored with soy sauce, sesame oil and an inspired purée of beetroot and peanut butter. More Asian accents follow with a thick slab of cod atop a velvety potato purée tinged with yuzu and truffle. A three-course meal for two is around 100 euros.
4) 11 p.m. FROM BATH TO BAR
Middle Eastern music drifts from the sound system while smoke from silvery water pipes fills the air. Are we still in Greece? Yes and no. Built in the 16th century as a Turkish bath, the Aigli Geni Hamam is now an indoor-outdoor bar and nightclub where the lofty stone domes shimmer with disco balls, and the soaring pointed arches glow with colored lights. Complete the Greco-Ottoman fantasia with a mix of raki and honey (5.50 euros) or a Mythos beer (4 euros).
The industrial-chic Kitchen Bar is situated on a pier with sweeping views of the Aegean Sea.
Saturday
5) 10 a.m. SAINTS AND SAVIORS
A vigorous uphill walk (or take the number 23 bus) leads you to the Ana Polis, or Upper Town, where the orderly grid of busy streets and dense apartment blocks gives way to peaceful winding lanes of small houses. You would need wax wings for a better view than the one afforded by the 15th-century Trigoniou Tower, while the nearby 14th-century Vlatadon Monastery ushers you into an intimate dark chapel decorated with wood-panel paintings, medieval Christian frescoes and a sign bearing an extraordinary message: "At this place St. Paul preached to Thessalonians at his second missionary journey (51 A.D.)." A bit downhill, the ancient Church of Hosios David contains two masterworks of early Byzantine art: colorful interlocking frescoes and a dazzling, radiant mosaic in the half-dome depicting a young Christ, a scroll in his hand, surrounded by rainbows, animals, fish and rivers. All are free.
6) Noon FACE THE WALL
Overlooking the centuries-old city wall, the two-story building housing Radikal restaurant is an Old World blend of stone, brick, planks and plaster embellished with contemporary sculptural lighting and Edison bulbs. The menu follows the same recipe, melding classic ingredients and 21st-century elements. No Greek meal is complete without feta cheese, which might arrive in a deep-fried grain coating, and drizzled with honey and pistachios. The exotic notes in the aubergine purée that accompanies the robust veal ragout come from touches of ginger and orange. Staying local, the wine list includes a Thessaloniki chardonnay that is a slimmer, softer iteration of its global cousins. Lunch for two: around 50 euros.
7) 2 p.m. MARKET SURVEY
If the venerable Modiano covered market is still under renovation, follow your nose to nearby Kapani Market, a warren of bustling lanes lined with stalls selling everything from fresh fish to dried herbs to Orthodox icons. Hidden amid the skinned lambs and mountains of olives, Semente Café is a new espresso bar where you can grab a cappuccino (1.20 euros), along with teas, chocolate bars and packets of nuts and grains. For something more intoxicating, To Laikon is a house of spirits: bottles of wine, ouzo and fruit brandy line the walls.
8) 4 p.m. HANDBAGS AND HAND GRENADES
Helmets, uniforms, medals, boots, gas masks and deactivated grenades are among the offerings at John's Military, one of the many antique, vintage and junk shops along Tositsa and Karmpola streets, near the Roman Agora. (Old bands never die there either, as witnessed by the shop's vinyl albums by Midnight Oil, The Hooters and other acts you had almost forgotten.) To resurrect women's fashion of bygone decades, ring the bell at Vaudeville.room and enter a small apartment full of steamer trunks, flapper caps, leather handbags, 1970s glitter tops and other castoffs from Greece's hipper great-grandmothers.
9) 6 p.m. LONG LIVE ROCKS
The circular domed monument known as the Rotunda is Thessaloniki's answer to Rome's Pantheon, and the structure's story is the story of the city itself: Built by the Romans in the early fourth century, the soaring space became a church under the Byzantine Empire and then a mosque during Ottoman rule. The marquee attractions are the remarkably intact fourth- to sixth-century paleo-Christian mosaics of archangels, saints, religious officials and ancient buildings that decorate the lofty dome, glittering and sublime. Admission, 2 euros.
10) 8 p.m.
A RUSTIC REPAST

At Nea Folia, a rustic little restaurant hidden on a residential back street, a lively local crowd feasts amid hanging plants, wreaths of dried spices and mounted cookware. There are cheeses aplenty (from goat-milk nuggets to Greek takes on Gruyere), smoked or salted seafood (including mussels, tuna and swordfish) and numerous ouzos, wines and beers. Dolmades come with dense mild yogurt, while ladotyri cheese from Lesvos is a dry, pleasantly acrid mix of olive oil and sheep's milk. Fish-wise, the filet of smoked mackerel is flambéed in ouzo and served with tomato, onions and capers. A meal for two costs around 50 euros.
11) 10 p.m. LIQUOR LABYRINTH
The fast-expanding Ladadika district has become a booze-drenched labyrinth of small cobbled streets and squares where tumbledown townhouses and industrial buildings are being upcycled into a whirl of slick lounges, rooftop retreats, live-music venues and trendy restaurants. You might half-expect to see drunken Minotaurs stumbling from Chilai — a dark two-level wine bar where young professionals sip dense Melmar syrah (6.50 euros) and other Greek vintages — or wobbling down the stairs from the candlelit Urania rooftop bar after a few special daiquiris (jazzed up with honey from nearby Halkidiki; 8.50 euros).
Sunday
12) 10 a.m. GLORIES OF ROME
The brilliant workmanship from the region's Roman period comes vividly to life in the Archaeological Museum of Thessaloniki, one of the few things open on Sunday. Every material has its exemplar. Gold? Exquisitely wrought myrtle wreaths of ultrafine gold leaf shimmer with delicate power. Glass? Tiny perfume vessels in rich blues and greens show remarkable prowess with the delicate material. Textile? Admire the purple silk with gold embroidery found in the tomb of the noblewoman, whose skeleton lies just alongside. And stone? From huge detailed floor mosaics with mythological scenes to intricate chiseled reliefs of battles and bacchanals, the rich colors and fine details awe in equal measure. Admission, 8 euros.
13) Noon SLOUCHING TOWARD BYZANTIUM
Goodbye, drunk satyrs. Goodbye, naked Venuses. Goodbye, orgiastic ebullience. Crossing the street, you cross into the next era of Thessaloniki history at the Museum of Byzantine Culture, a modernist Le Corbusier-inspired building where long ramps slope upward through dark galleries of somber Christian creations. In addition to barrel-vaulted stone tombs painted with biblical scenes (Abraham's sacrifice, Lazarus's resurrection), the most moving items are the many wood-panel paintings: melancholy Christs, Madonnas and saints with long narrow faces and richly colored robes against glorious gold backgrounds. Admission 4 to 8 euros, depending on season.
---